Classical Concert Specials Vienna
Christmas, New Year and more
Vienna is a city of many festivals, balls and other celebrations. From Christmas, to New Year to Easter, from the Vienna Opera Ball to the Vienna Philharmonic Ball – the city at the blue danube celebrates every event with style and splendor. Vienna's most famous orchestras invite you to cheerful evenings with classical music.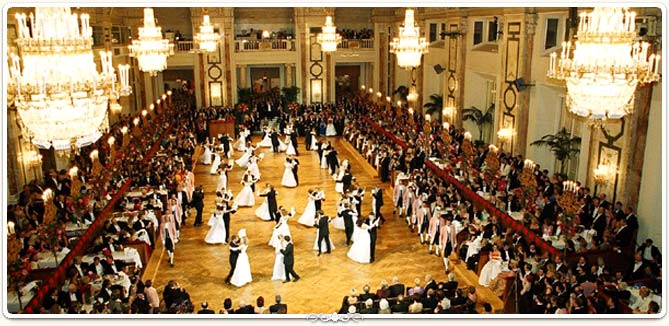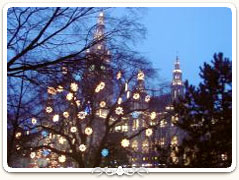 During Christmas time, Vienna presents itself from its most romantic side. The Viennesse inner city is engarlanded with impressive little lights. In front of impressive old palaces stand traditionally decorated little booths, the sweet aroma of gingerbread, mulled wine and Christmas cakes is in the air. Shop windows are decorated with pine twigs, fir loppings and colorful silk ribbons. Fantastic Christmas decorations made of thousand of small lights turn Vienna into a christmas-like sea of lights.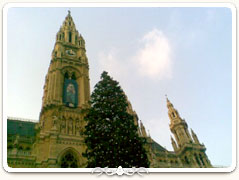 At the City Hall Square, Vienna's biggest christmas market offers traditional and modern Christmas treats. Vienna Christmas market is Viennese tradition as it's over 700 years old. Finding christmas presents and traditional Christmas pastry will not be hard. The Viennesse Advent magic tuns the close by park in a pavilions adorned with Christmas decorations, the trees full of golden leafs, glowing hearts, huge candies and glittering stars. In Christmas workshop children can bake sweet cookies or biscuits and tinker gifts.
Traditionally Christmas in Vienna is celebrated on christmas eve, December the 24th with a richly decorated christmas tree and a festive feast. Around midnight, most people go to church to celebrate the Christmas mass.
There is no better way to enjoy classical music during christmas time than to visit one of the many christmas concerts or numerous christmas packages. Reserve in advance as christmas time in Vienna is fully booked for months ahead.
• Order tickets for the christmas concerts •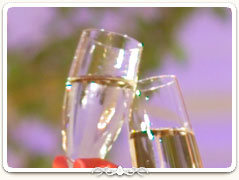 At the turn of the new year, the district of Vienna turns into a gigantic festival area. Thousands of people celebrate the turn of the new year at the Sylvester path.
The inner district of Vienna becomes a gigantic festival area. You will find free Waltzer dance lessons at the town hall square, family programme at the high market, clubbing at the hottest rhythm night-spots and spectacular firework displays at midnight.
At midnight, the Pummerin, the largest bell in Austria in the Stephansdom, heralds the beginning of the New Year. Then, after a moment of silence, all over Austria the tune of Johann Strauss' The Blue Danube can be heard, while Vienna dances the traditional waltz into the New Year.
• Order tickets for the New Year concerts •