Concerts at the Billrothhaus
Vienna Supreme Orchestra
The Billrothhaus, named after Austrian physician and former president of the society Theodor Billroth, is the headquarter of the College of Physicians in Vienna. It is a palatial building in the Neo-Renaissance style and was finished construction in 1893. The concerts take place at the large, rectangular Festive Hall on the first floor.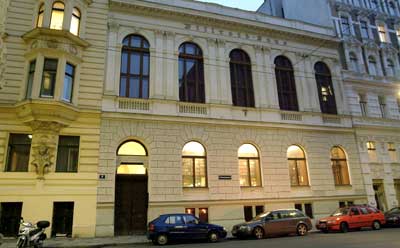 How to get to the Billrothhaus
Address
Billrothhaus
Frankgasse 8
1090 Vienna (9th district)
Hall
Festsaal
Air-conditioned
No
Wheelchair access
Yes
By public transport
The Billrothhaus lies behind the Votive Church, next to the University of Vienna. It can easily be reached from the station Schottentor of subway line U2 or the station Landesgerichtsstraße of the tramway lines #43 and #44.
By car
As is the case with all concerts that take place in the first district (Innere Stadt), we recommend to not go there there by car. The first district is a labyrinth of narrow one-way streets and blind ends and parking is at best difficult, more often impossible. The area is also a short-term parking zone (Kurzparkzone) from Monday to Friday from 9:00 to 22:00 with a maximum parking time of two hours. Prepaid parking vouchers may be purchased at tobacconists, all points of advance sale and ticket machines at all Vienna public transport underground stations, automobile clubs ARBÖ and ÖAMTC and some petrol/gas stations.
By Taxi
Taxis are a reliable and common means to get to your concert. Taxis are usually found at train stations and at taxi stands all over the city. Or you can order a taxi by calling 31 300, 60 160, 40 100 or 81 400.
---
Bildrechte: Franz Kainberger - Gesellschaft der Ärzte in Wien, CC BY-SA 3.0