String quartet Mozart Ensemble
Concerts at the Vienna Mozarthaus
Four chamber musicians, experienced in playing solo as well as together, form the Vienna string quartet Mozart Ensemble Wien. Directed by Claudio Bentes at the position of first violin, the Mozart Ensemble Vienna has become an insider's tip for fans of Viennese chamber music. In the classic cast of two violins, a viola and a cello, the Mozart Ensemble brings to life the most beautiful works of the Viennese classic in all its nuances. With playful charm and nimble figuration, the string quartet plays a program with selected works of Joseph Haydn, Franz Schubert and Wolfgang Amadeus Mozart.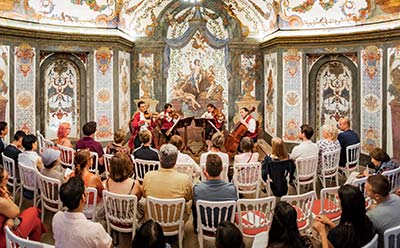 Sala Terrena at the Deutschordenshaus
A voyage into the depths of Viennese chamber music begins before even entering into the concert hall. The Deutschordenshaus at Singerstraße is an imposing building, somehow not willing to fit into the Inner City with its narrow alleys and mysterious yards. It is not often that one can see how Vienna has changed and grown over the epochs that have passed.
Musical ghosts roam Vienna's streets and the town remains besotted with its past musical masters. Mozart's String Quartet C-Dur KV.157, Haydn's Quartet in d - moll op. 76/2 and Beethoven's string quartet Nr. 10 in Es-Dur fill the narrow streets of Vienna with delightful music. Oh, if only there were more time for Mozart, Haydn and Beethoven. Mozart's formal elegance, Beethoven's fluent expression and Haydn's famous string quartets guide one according to Viennese Classic, to the imperial era with a pinch of European quartet tradition. And you might find out that Mozart Ensemble's graceful phrasing and awareness of structure are musical equivalents of Vienna's ornate architecture and imperial atmosphere.
Concert dates and ticket prices
The concerts take place on Thursday, Friday and Sunday at 19:30, and on Saturday at 18:00 with additional concerts at Christmas and New Year. The concert length is about 75 minutes. Tickets are available in two categories A and B. Discounted ticket prices are available for children and students up to the age of 26.
All prices are total prices, including all taxes and statutory fees. We do not add any booking fees or shipping charges.
The programme: Mozart, Schubert, Haydn and Beethoven
The Mozart Ensemble presents selected works of the viennese classic, in the familiar atmosphere of the Sala Terrena at the convent of the Deutschen Ritter Ordens, where Mozart himself, under the supervision of bishop Colloredo, used to work and lodge.
Wolfgang Amadeus Mozart: Quartet in C major KV.157
Allegro
Andante
Presto
Franz Schubert: Deutsche Tänze
Wolfgang Amadeus Mozart: Kleine Nachtmusik
Allegro
Romanze - Andante
Menuetto - Allegretto
Rondo - Allegro
Intermission
Joseph Haydn: Quartett in D minor op. 76/2 Quints quartet
Allegro
Andante o più tosto allegretto
Minuetto allegro ma non troppo
Finale. Vivace assai

Vienna Mozart Ensemble – an exclusive chamber music experience.
Buy tickets now