Mozart Ensemble
Concerts at the Sala Terrena
Mozart Ensemble String Quartet
Four chamber musicians, experienced in playing solo as well as together, form the Vienna string quartet Mozart Ensemble Wien. Directed by Claudio Bentes at the position of first violin, the Mozart Ensemble Vienna has become an insider's tip for fans of Viennese chamber music. In the classic cast of two violins, a viola and a cello, the Mozart Ensemble brings to life the most beautiful works of the Viennese classic in all its nuances. With playful charm and nimble figuration, the string quartet plays a program with selected works of Joseph Haydn, Franz Schubert and Wolfgang Amadeus Mozart.
The four musicians of the Mozart Ensemble are masters of their craft. Tours and concerts have taken them across Europe and also to Japan and South America. Their performance is witty and electrifying, a privileged experience that makes you feel like an elite member of the imperial era.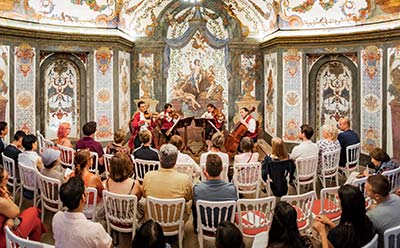 The Mozart Ensemble Vienna plays divertimenti, serenades and selected string quartettes from the Vienna classical period, every Wednesday, Friday and Sunday at 19:30 (7.30pm) and Saturday at 18:00 (6.00pm).
Mozart Ensemble Piano Trio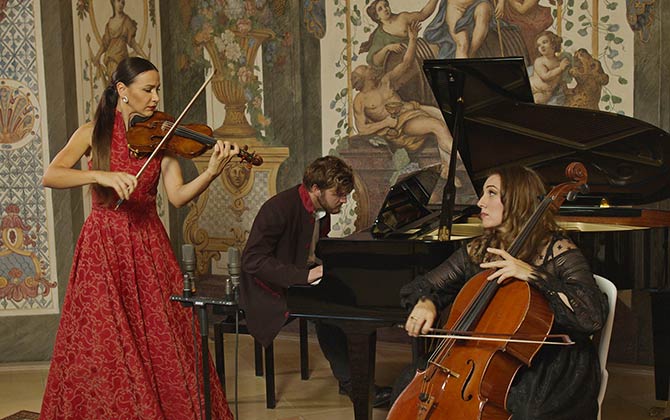 Let the Mozart Ensemble Piano Trio (piano, cello and violin) take you back to the glorious days of the Viennese classical period. Listen to selected works such as Ludwig van Beethoven's Moonlight Sonata, Franz Liszt's Liebesträume and Impromptus by Franz Schubert. Among the highlights of the program are the Piano Trio in G major Rondo All'Ongarese (Gypsy Trio) by Joseph Haydn and the Turkish March from Sonata No. 11 in A major (KV 331) by Wolfgang Amadeus Mozart.
The Mozart Ensemble Piano Trio performs on Tuesdays and Thursdays at 19:30 (7.30pm).
Mozart Ensemble Piano Evening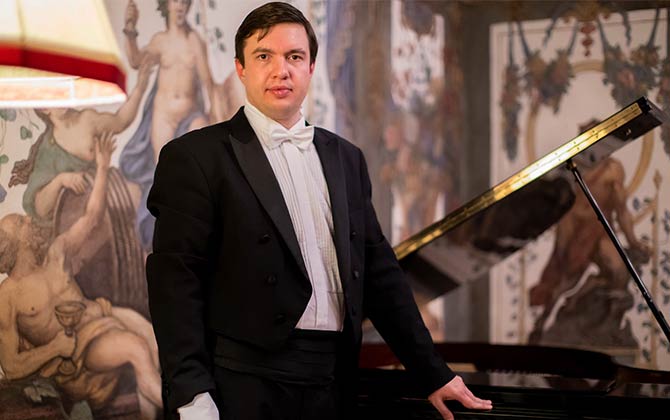 Enjoy a selection of the most beautiful piano works by Ludwig van Beethoven, Franz Liszt, Frédéric Chopin and other composers, played by internationally renowned pianists.
The Mozart Ensemble Piano Evening takes place every Saturday at 20:00 (8.00pm).
Sala Terrena at the Deutschordenshaus
The concert hall provides a significant part to the concert experience. The Deutschordenshaus at the Singerstraße is an imposing building that somehow is not willing to fit into the inner city with its narrow alleys and mysterious yards. Contrasting architecture from different eras, which can also be found inside: the Gothic-style Deutschordenskirche was built between 1326 and 1375, the courtyard and the other wings of the building 300 years later in 1667. High rooms that seem to strive towards the sky alternate with narrow, oppressive passages. Then there is the concert hall in the style of the late Renaissance. Designed in the idea of a grotto, the Sala Terrena charms with its intimate atmosphere and colorful freskos and goes well with the Mozart Ensemble's graceful phrasing and awareness of structure, like musical equivalents of Vienna's ornate architecture and imperial atmosphere.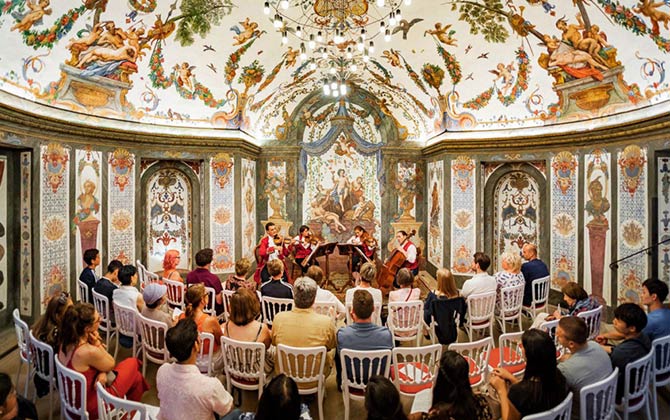 Concert dates and ticket prices
The Mozart Ensemble String Quartet plays every Wednesday, Friday and Sunday at 19:30 (7.30pm) and Saturday at 18:00 (6.00pm). The Mozart Ensemble Piano Trio plays on Tuesdays and Thursdays at 19:30 (7.30pm) and the Piano Evening takes place on Saturdays at 20:00 (8.00pm).
Additional concerts are performed at Christmas and New Year.
Tickets are available in two categories A and B. Discounted ticket prices are available for children up to the age of 14 and students with a student pass up to the age of 26 and default to category B except when bought together with regular tickets in category A.
The concerts last for about 75 minutes (up to 90 minutes if there is an intermission).
Admission opens 30 minutes before the concert begins.
The Sala Terrena is wheelchair accessible.
There is no specific dress code.
All prices are total prices, including all taxes and statutory fees. We do not add any booking fees or shipping charges.
Vienna Mozart Ensemble – exclusive chamber music experiences
Buy tickets now