Classic Ensemble Vienna concert
at St. Peter's Church
The Classic Ensemble Vienna occupied by two violins, a cello and a double bass, will take you on a journey of the most beautiful works of European classical music. Including some of the most famous pieces drawn from the repertoire of Bach, Mozart, Beethoven and Vivaldi. You can discover, or rediscover, excerpts of such well known works as The Four Seasons, Eine Kleine Nachtmusik or Bach's Orchestral suites. The musicians of the Classic Ensemble Vienna will provide an unforgettable evening in the capital of classical music.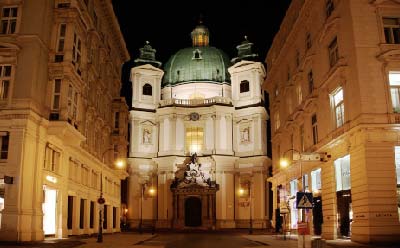 Concert dates and tickets
The Classic Ensemble Vienna plays regularly at 20:30 (8.30pm). The concerts last about an hour without intermission. Admission opens 30 minutes before the concert begins.
Tickets are available in three categories. The seats are not numbered, seating will be assigned by the usher at the entrance according to ticket category.
Discounts are available for seniors from 65 years and children and students up to 27 years. For children up to the age of 7, admission is free when accompanied by their parents, assuming they will be sitting on your lap. Children under the age of 2 are not permitted at the concerts.
We request that you dress appropriately for the concert and the location (no training or street wear).
Concerts Christmas and New Year
All prices are total prices, including all taxes and statutory fees. We do not add any booking fees or shipping charges.
The program of the Classic Ensemble Vienna
Wolfgang Amadeus Mozart: Eine kleine Nachtmusik KV 525, I. Allegro
Antonio Vivaldi: Four Seasons
Wolfgang Amadeus Mozart: Requiem KV 626
Introduction und Kyrie
Lacrymosa
Johann Sebastian Bach: Air on the G string BWV 1068
Franz Schubert: Der Tod und das Mädchen, 2nd movement Andante con moto
Ludwig van Beethoven: String quartett in C-Major Op. 59, Nr.3 "Rasumowsky", 4th movement Allegro molto