St. Peter's Church Vienna
The first St. Peter's church dates back to the second half of the fourth century, it is speculated that it is the oldest church in Vienna. St. Peter's church was built on the site of the Roman encampment Vindobona. The church with a nave and two aisles in Romanesque architecture (later adapted to Gothic architecture) was the first parish of Vienna. Emperor Leopold as a member of the Fraternity of the Holy Trinity decided to build a new church. He had taken a vow to rebuild this church when Vienna was struck by the plague between 1679-1680. The dilapidated church as well as the surrounding cemetery were torn down. The construction of the new Baroque church began under Gabriele Montani who was later replaced by the famous austrian architect Lukas von Hildebrandt. In 1733, after the church was finished, it was consecrated to the Holy Trinity and Saint Peter. Today St. Peter's church is one of the most beautiful baroque churches in Vienna and one of the most outstanding artistic monuments in Austria.
The concerts of the Classic Ensemble Vienna take place at the St. Peter's Church.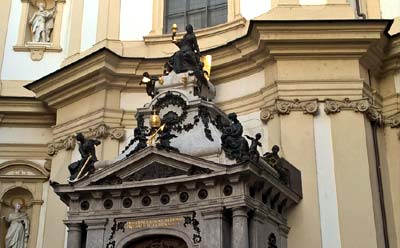 How to get to St. Peter's Church
Address
St. Peter's Church
Petersplatz
1010 Vienna (1st district)
Air-conditioned
Yes
Wheelchair access
Yes
By public transportation
The subway lines U1 and U3 both have a station at Stephansplatz, from there it is a short walk to St. Peter's church.
By car
As is the case with all concerts that take place in the first district (Innere Stadt), we recommend to not go there by car. Vienna's first district is a labyrinth of narrow one-way streets and blind ends and parking is at best difficult, more often impossible.
Please note that all of Vienna is a short-term parking zone (Kurzparkzone) from Monday to Friday from 9:00 to 22:00 with a maximum parking time of two hours. Prepaid parking vouchers may be purchased at tobacconists, all points of advance sale and ticket machines at all Vienna public transport underground stations, automobile clubs ARBÖ and ÖAMTC and some petrol/gas stations or online with your mobile phone at www.handyparken.at (registration required).
By taxi
Taxis are a reliable and common means to get to your concert. Taxis are usually found at train stations and at taxi stands all over the city. Or you can order a taxi by calling: 31 300, 60 160, 40 100 oder 81 400.