Mozart Requiem Mass
at the St. Charles Church Vienna
The Requiem, Wolfgang Amadeus Mozart final work, has a mysterious history, riddled with deception and manipulation. The work was commissioned by Count Walsegg in July 1791, who wanted to pass off the work as his own, so the circumstances of the commission were kept secret. Upon Mozart's death, Constanze (his wife) had the work completed by other composers, but in order to receive the final payment, their assistance had to be kept secret.
At the same time, Constanze wanted to present the Requiem as being entirely written by Mozart, in order for her to make the most of it. When it became known that others except Mozart assisted with the Requiem, Constanze insisted that Mozart left explicit instructions for the work's completion. Many claimed that Antonio Salieri played a role in the completion and commision of the Requiem as well as involving him in Mozart's death.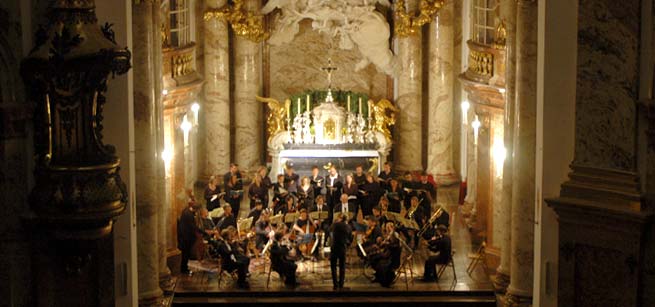 St. Charles Church (just a few hundred meters located from the place Mozart died) is one of Vienna's most impressing and significant buildings. Between April and October it is the ideal location to perform Mozart´s last work. The concerts are performed by Choir and Soloists of the Salzburg Concert Society as well as by the Orchestra 1756. All together there are more than 40 musicians on stage. The Orchestra 1756 plays on so called historical instruments.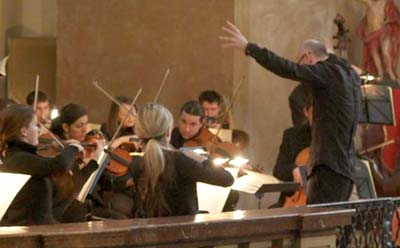 Concert dates and ticket prices
The concerts take place regularly at 20:15 and last for about an hour. Seats are available in three different categories. Discounts are available for children and students up to the age of 26. Toddlers (2 — 3 years), provided they sit on your lap, can enter for free. The seats are not numbered, seating will be assigned at the entrance according to ticket category.
Category I
48.00 €
Category II
40.00 €
Category III
32.00 €
Category Wheelchair / Rollstuhl +1
32.00 €
Category Wheelchair / Rollstuhl
32.00 €
Seating Buy tickets
All prices are total prices, including all taxes and statutory fees. We do not add any booking fees or shipping charges.
The Requiem in D Minor
The Requiem played is the one completed by Franz Xaver Süßmayr. The performance lasts approximately one hour.
Introitus: Requiem aeternam, Adagio, d [10] (Choir, Sopransolo, Choir). Followed by:
Kyrie, Allegro, d (Fuge) (Choir)
Sequence:

Dies irae, Allegro assai, d (Choir)
Tuba mirum, Andante, B (Solistenquartett)
Rex tremendae, g (Choir)
Recordare, F (Solistenquartett)
Confutatis, Andante, a (Choir)
Lacrimosa, d (Choir)

Offertorium

Domine Jesu, Andante con moto, g (Choir, Solists), Fuge Quam olim Abrahae (Choir)
Hostias, Es (Choir) mit Wiederholung der Fuge Quam olim Abrahae

Sanctus, Adagio, D mit Fuge Osanna (Choir)
Benedictus, Andante, B (Solistenquartett) and Fuge Osanna (Choir)
Agnus Dei, d (Choir).
Communio: Lux aeterna, Adagio, d (Sopransolo, Choir) und Allegro, d (Fuge, Choir)
Concerts at the St. Charles Church - a musical experience on historical instruments!
Get your tickets now