Classical Music of Vienna
Buy tickets for classical concerts in Vienna online
Vienna – world capital of classical music! It is the birthplace of the waltz and the operetta and was home and workplace for more composers and musicians than any other city. Operas, concerts, and theatrical performances have played a major part in Viennese life for centuries, and today the streets resound regularly with the melodies of the imperial era. MusicofVienna.com is your single point to buy tickets for classical concerts in Vienna.
Ordering your tickets
Select a date on the calendar or from the list of upcoming concerts, or select one of the concerts by orchestra. Click on Buy tickets and enter your personal information. Submit your order and select a payment method. Payment methods include all major credit cards, bank transfer, online bank transfer with SOFORT and payment with Paypal. Once your order is payed for, you will receive your reservation number and tickets by email. You can then either pick up your tickets before the concert at the concert hall entrance with your name and reservation number or print them in advance. Our help pages also offer detailed order instructions.
Calendar Upcoming concerts All concerts overview
Classical concerts Vienna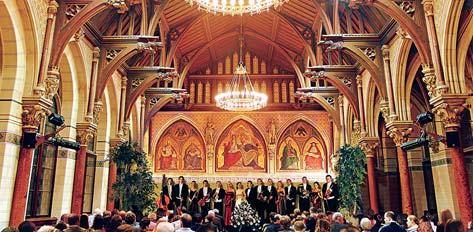 The Vienna Royal Orchestra combines art and entertainment at the highest level of skill. Selected musicians from the most famous Viennese orchestras, soloists and ballet dancers guarantee a uniqueness of experience and interpretation reminiscent of the times of composers such as Wolfgang Amadeus Mozart or Johann Strauss.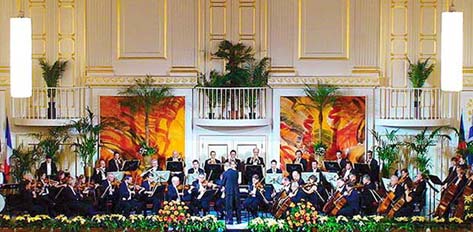 At the Vienna Hofburg, the former emperor's residence, the Vienna-Hofburg Orchestra presents an evening filled with the the most famous waltz and operetta melodies by Johann Strauss, Franz Léhar and opera aries by Wolfgang Amadeus Mozart.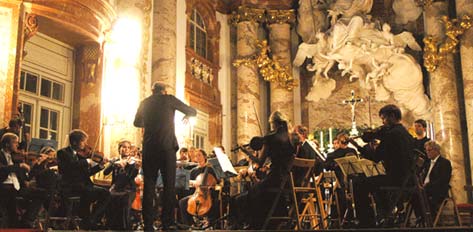 Experience Wolfgang Amadeus Mozart's most disputed master piece, the Requiem in D minor, at the baroque St. Charles Church in Vienna. The choir of the Salzburg Concert Society and the Orchestra 1756, performing on historical instruments, present Mozart's monumental Mass in uncomparable authenticity.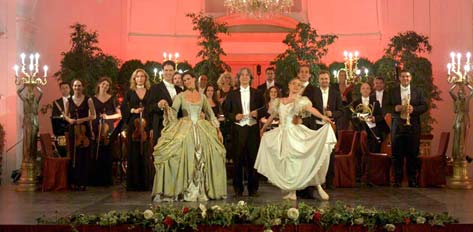 Since 1997, the Schoenbrunn Palace Orchestra have established themselves as integral part of Vienna's cultural and musical life. In the traditional Orangery Schoenbrunn in Vienna, the Schoenbrunn Palace Orchestra and the Schoenbrunn Palace Ensemble perform to the most beautiful tunes of Wolfgang Amadeus Mozart and Johann Strauss.
---
New classical concerts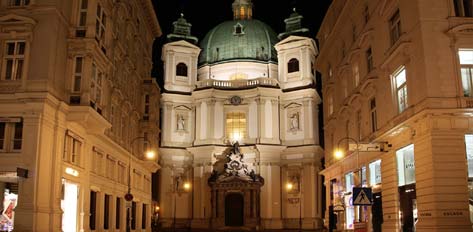 The Classic Ensemble Vienna occupied by two violins, a cello and a double bass, will take you on a journey of the most beautiful works of European classical music. Including some of the most famous pieces drawn from the repertoire of Bach, Mozart, Beethoven and Vivaldi.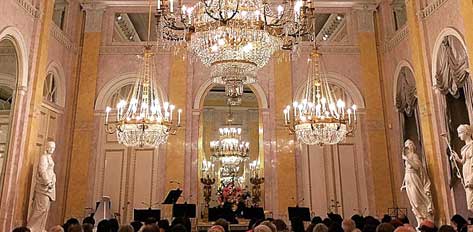 Immerse yourself in the delightful Viennese music, be enchanted by its elegant waltzes, its refreshing polkas and its many romantic arias and duets. Experience works by Wolfgang Amadeus Mozart, Franz Schubert and, of course, the Strauss Dynasty, the masters of operetta. Let the Vienna Supreme Orchestra and its soloists offer you a truly magical evening where you can experience the happiness, optimism and flair of this wonderful city.
Upcoming concerts
Sunday, 17th October 2021

17th October, 2021

–

Concert at: 18:30


Palais Schönborn Batthyány, Vienna


VIP: 69.00 € |

A: 54.00 € |

B: 44.00 €

Enjoy carefully selected music works from the Baroque, Classical and Romantic Era at the Vienna Baroque Orchestra concert. Performed by master musicians and professional opera singers in one of Vienna's most beautiful baroque halls. The Vienna Baroque Orchestra performs exclusively at the Red Salon at the Palais Schönborn Batthyány.

In addition to seating in the first or second row, the category VIP includes a free drink during the intermission at the bar and a concert CD.

17th October, 2021

–

Concert at: 18:30


Palais Schönborn Batthyány, Vienna
Includes a three-course dinner at 20:30 (excl. drinks)


VIP: 109.00 € |

A: 94.00 € |

B: 82.00 €

Combine the concert of the Vienna Baroque Orchestra with a delightful three-course dinner at the Café Landtmann - Vienna's most authentic classic coffee house.

17th October, 2021

–

Concert at: 19:30


Sala Terrena, Vienna


A: 65.00 € |

B: 55.00 €

The string quartet Mozart Ensemble presents selected works of viennese classic chamber music in the familiar atmosphere of the richly decorated Sala Terrena at the convent of the Deutscher Ritter Orden. The same place where Mozart himself, under the supervision of bishop Colloredo, used to work and lodge.

17th October, 2021

–

Concert at: 20:00


Imperial Hall, Vienna


Imperial: 99.00 € |

Gold: 69.00 € |

Silver: 59.00 € |

Bronze: 45.00 €

In the best Viennese tradition the Vienna Royal Orchestra presents selected classical masterpieces at the Imperial Hall. Two pairs of dancers from the Vienna State Opera or solo dancers from famous opera houses in genuine costumes, as well as selected singers of international renown, bestow this performance with an aura of imperial grandiosity.

17th October, 2021

–

Concert at: 20:00


Imperial Hall, Vienna
Three-course dinner at 18:30 (excl. drinks)


Imperial: 139.00 € |

Gold: 114.00 € |

Silver: 104.00 € |

Bronze: 90.00 €

In Vienna music and delicious food go hand in hand. Culinary and musical influences of adjoining countries composed the Special Viennese touch already at the days of the imperial Vienna. Enjoy a charming evening full of Viennese Flair at the restaurant Parlor.

17th October, 2021

–

Concert at: 20:15


Palais Auersperg, Vienna


VIP: 65.00 € |

A: 55.00 € |

B: 45.00 €

The Vienna Residence Orchestra together with famous opera singers in historical costumes will enchant you with the most beautiful melodies by Mozart and Strauss. One of the best orchestras of the Viennese music scene will take you on a journey back to Imperial Vienna.

17th October, 2021

–

Concert at: 20:30


Kursalon, Vienna


VIP: 105.00 € |

A: 75.00 € |

B: 63.00 €

At the very place where Johann Strauss himself directed his orchestra regularly from the position of first violin, the absolute essence of Vienna's classical music can once again be heard every day.

The VIP category includes one glass of prosecco during the intermission, a Johann Strauss CD, a copy of the concert program and the cloakroom.
All prices are total prices, including all taxes and statutory fees. We do not add any booking fees or shipping charges.