Imperial Hall at the Beethovenplatz
Vienna Royal Orchestra Concerts
The Vienna Imperial Hall at the Beethoven Platz 1 was built by Friedrich Schmidt, master builder of St. Stephen's Cathedral (Stephansdom) and architect of the Vienna town hall (Wiener Rathaus). The glorious architecture of the magnificent, neo-gothic Imperial Hall is captivating and provides an unsurpassable sound experience, fitting for the Vienna Royal Orchestra concerts.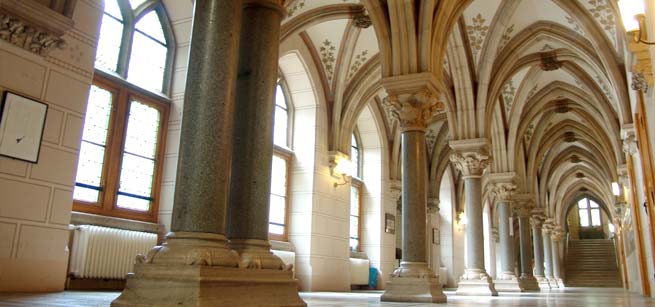 Beethovenplatz in Vienna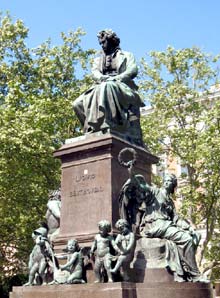 In the Middle Ages, the site of today's Beethoven square was part of Vienna's suburbs, right outside the Stubentor, a former city gate. In the years 1857 to 1864 the old city walls were torn down and construction of the Ringstraße started in their place. The back then not named square was bounded on one side by the Wien River, on its other sides numerous buildings were built, most still have historical significance today.
At the center of the Beethoven square is the Beethoven park, where, in 1880, a monument for German composer Ludwig van Beethoven was erected in the center of the park. 19 years later, after the Wien River was arched, the monument was turned 180 degrees to face in the direction of the newly built Lothringerstraße. In 1904, the square was finally named after the monument of Beethoven.
How to get to the Imperial Hall
Address
Academic Gymnasium
Beethovenplatz 1
1010 Vienna (1st district)
Concert hall
Imperial Hall
Air-conditioned
Yes
Wheelchair access
No
By public transportation
Take the U4 subway train to station Stadtpark, exit towards Johannesgasse and walk down Lothringerstrasse – the Beethovenplatz will be on your right-hand side. Or take the local tram #2 or #71 to station Schwarzenbergplatz (Schwarzenbergstrasse), walk down Schubertring and take a right at Christinengasse, which will lead you directly onto Beethovenplatz.
By car
As is the case with all concerts that take place in the first district (Innere Stadt), we recommend to not go there by car. Vienna's first district is a labyrinth of narrow one-way streets and blind ends and parking is at best difficult, more often impossible.
Please note that all of Vienna is a short-term parking zone (Kurzparkzone) from Monday to Friday from 9:00 to 22:00 with a maximum parking time of two hours. Prepaid parking vouchers may be purchased at tobacconists, all points of advance sale and ticket machines at all Vienna public transport underground stations, automobile clubs ARBÖ and ÖAMTC and some petrol/gas stations or online with your mobile phone at www.handyparken.at (registration required).
By taxi
Taxis are a reliable and common means to get to your concert. Taxis are usually found at train stations and at taxi stands all over the city. Or you can order a taxi by calling: 31 300, 60 160, 40 100 oder 81 400.
Let the Vienna Royal Orchestra take you away to an unique time period and enjoy a feast for the senses with entertainment at the highest artistic level!
Get your tickets now