Concerts at the Haus der Industrie
Vienna Royal Orchestra
The large fest hall at the late historicism styled Haus der Industrie is considered to be one of the most magnificient halls at the Vienna Ringstraße. The building was designed by the architect Karl König, and built in the years from 1906 to 1909. It was ceremonously inaugurated by emperor Franz Joseph on the 5th of March 1911.
The fest hall extends over two floors. A large skylight in the coffered ceiling provides lighting for the room and the galeries. A large oil painting of emperor Franz Joseph dominates the front side of the hall.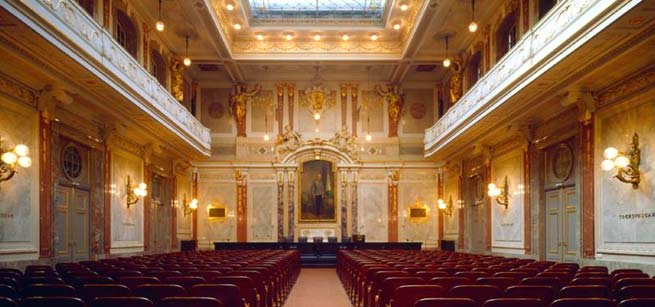 How to get to the Haus der Industrie
Address
Haus der Industrie
Schwarzenbergplatz 4
1031 Vienna (3rd district)
Concert hall
Großer Festsaal (Large Fest Hall)
Air-Conditioned
Yes
Wheelchair access
Yes
By public transportation
The closest tram station is Am Heumarkt of line 71. Only a short walk away are the stations Schwarzenbergplatz (Mitte) of line D and the station Schwarzenbergplatz (Schubertring) of lines 2 and 71, as well as the station Stadtpark of subway line U4.
By car
The third district, especially the area around the Schwarzenbergplatz, does not provide much parking space. As such, we do not recommend to go there by car. The area is also a short-term parking zone (Kurzparkzone) from Monday to Friday from 9:00 to 22:00 with a maximum parking time of two hours. Prepaid parking vouchers may be purchased at tobacconists, all points of advance sale and ticket machines at all Vienna public transport underground stations, automobile clubs ARBÖ and ÖAMTC and some petrol/gas stations.
By Taxi
Taxis are a reliable and common means to get to your concert. Taxis are usually found at train stations and at taxi stands all over the city. Or you can order a taxi by calling 31 300, 60 160, 40 100 or 81 400.
Let the Vienna Royal Orchestra take you away to an unique time period and enjoy a feast for the senses with entertainment at the highest artistic level!
Get your tickets now