Partner links
Your link on musicofvienna.com
A good network is the basis for mutual success. Music of Vienna is always on the lookout to extend its network by connecting with other companies and websites that are of interest to our customers and fans of classical music in general.
Currently, musicofvienna.com is available in english and german at the URLs given below:
We continously add pages about what Vienna has to offer and about classical music to our website. Already implemented and/or in planning are the following areas:
Vienna for tourists and music fans

Staying in Vienna
Sightseeing
Eating and drinking in Vienna
Art and culture
Travelling to and around Vienna

Composers and their works

Wolfgang Amadeus Mozart
Franz Schubert
Joseph Haydn
Most of these areas will at least be available in English and German. You may then choose whether your link appears on the english or german language version. By rule of thumb we only link to english sites from the english pages and german sites or pages from the german pages.
If you are interested in exchanging links, please send:
Your contact information
The URL of your website
A description of the type of link you desire (Banner, Text, title, alt).
to .
Link suggestions and texts
We prepared a number of different links, each with a different focus, to be easily pasted into your website:
Text link only
Classical Music Vienna
Enjoy classical music in Vienna at its finest: magnificent concert halls, authentic costumes and selected orchestras - buy your tickets online today.
Classical concerts Vienna
Enjoy classical concerts in Vienna at their finest: magnificent concert halls, authentic costumes and selected orchestras - buy your tickets online today.
Banners for musicofvienna.com
Select a banner that fits into the design of your website. Please save the image to your web-server (right-click and select "Save as ...") and adjust the parameter for src="" accordingly.
Music of Vienna 234 x 60 Pixel

Music of Vienna Mini-Button 100 x 52 Pixel

Music of Vienna 125 x 125 Pixel

Classical concerts Vienna 200 x 200 Pixel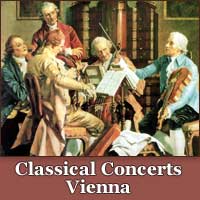 Classical concerts Vienna 125 x 125 Pixel

Find us on one of these sites
The following is a list of all the sites who generously listed us in their references, helping make MusicOfVienna the best place for you to purchase your concert tickets online. Although not everyone of them is directly related to classical music, each website provides interesting information in its own right and we would like to encourage you to pay them a visit.