Vivaldi's Four Seasons
at the St. Charles Church Vienna
Composed in 1723, the four Seasons (italian: "Le quattro stagioni") is most likely Vivaldi's most famous work. It consists of four concerts, each resembling a respective season. Each one of the concerts is in three movements, with a slow movement between two faster ones.
Concert for solo violin with string quartet and basso continuo B minor RV 580

Concerto No. 1 in E major, Op. 8, RV 269, "La primavera" (Spring)
Concerto No. 2 in G minor, Op. 8, RV 315, "L'estate" (Summer)
Concerto No. 3 in F major, Op. 8, RV 293, "L'autunno" (Autumn)
Concerto No. 4 in F minor, Op. 8, RV 297, "L'inverno" (Winter)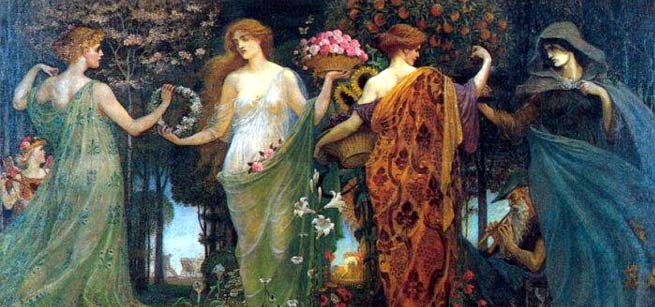 From early on Vivaldi regularly experimented with extra-musical programs. In his greatest work The Four Seasons one can find mainly natural phenomena: gentle winds, violent storms, thunderstorms and breaking ice occur in all four concert pieces. Also various bird songs, a dog, the tumult of a hunting party, a peasants dance.
The Orchestra 1756
Mozart's 250th birthday was used as an opportunity to found the Orchestra 1756 in 2006. The ensemble devotes itself to the interpretation of music between 1750 and 1800. The unique Mozart sound originates from intensive occupation with the stylistics of the 18th century, historic instruments and balanced formations of musicians.
The Choir of Salzburger Konzertgesellschaft demands responsibility and quality from every single member. Depending on the repertoire the chorus consists of 16 to 24 singers. They are chosen through strict annual auditions. Both Orchestra 1756 and Chorus are submitted to strict stylistic criteria.
Concert dates and ticket prices
The concerts take place regularly at 20:15. Seats are available in three different categories. Discounts are available for children and students up to the age of 26. Toddlers (2 — 3 years), provided they sit on your lap, can enter for free. The seats are not numbered, seating will be assigned at the entrance according to ticket category.
Category I
48.00 €
Category II
40.00 €
Category III
32.00 €
Category Wheelchair / Rollstuhl +1
32.00 €
Category Wheelchair / Rollstuhl
32.00 €
Seating Buy tickets
All prices are total prices, including all taxes and statutory fees. We do not add any booking fees or shipping charges.
Concerts at the St. Charles Church - a musical experience on historical instruments!
Get your tickets now