Vienna Residence Orchestra
Mozart and Strauss in unequalable excellence
The Vienna Residence Orchestra is a classical chamber orchestra with a long tradition, it was established to perform the works of the Viennese classics in supreme completion. The Rosenkavalier Hall is the perfect setting of the Palais Auersperg, where the Vienna Residence Orchestra performs with famous opera singers and ballet dancers. It is a cultural highlight on the scene of classical music.
Authentical Viennese music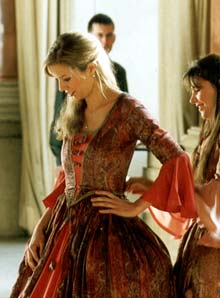 Authenticity is the trademark of the Vienna Residence Orchestra. An exclusive ensemble of musicians who interpret classical music like Mozart, Haydn and Beethoven genuinely, with sensibility and the special feeling that is needed to make the Viennese waltz a great experience. With a program that leaves nothing to be desired for, dancers of the Vienna State Opera Ballet and the Volksoper Ballet, as well as known opera singers make every concert an aesthetic enjoyment.
Concert dates and tickets
The Vienna Residence Orchestra performs all year round. Concerts take place at 20:30 (8.30pm) with additional concerts on selected days at 18:30 (6.30pm). Entrance to the concerts is 30 minutes before the concert begins. The concert duration is approximately one and a half hours. There are three categories you can choose from: VIP, A und B. Category VIP comprises the first three rows with the best view at the musicians and dancers.
Children under the age of 2 are not permitted at the concerts. Children up to and including the age of 5 are permitted as long as they sit on your lap. Children age 6 and older require their own seat.
All prices are total prices, including all taxes and statutory fees. We do not add any booking fees or shipping charges.
Highlights from the program
Wolfgang Amadeus Mozart

Overture to "The Marriage of Figaro"
Papageno-Papagena, Duet from "The Magic Flute"
Divertimento D-Major KV 136, 1st Movement
Violinkonzert G-Major, 2nd Movement
Duet from "Don Giovanni"
Turkish March
Aria from "The Marriage of Figaro"
"Cat's Duet"
Johann Strauss

Emperor's Waltz
Eljen a Magyar, Polka
Aria from "The Gypsy Baron"
Tick Tack Polka
Csardas from "Ritter Paszman"
Viennese Blood, Waltz
Blue Danube Waltz
Radetzkymarch
Experience the master pieces of Viennese Classic music in an authentic Viennese performance.
Buy online now