Concerts at the Boerse Palais
Vienna Residence Orchestra
The former Vienna Stock Exchange building has a distinctive brick-red facade and is one of the most prominent edifices on the world-famous Ring-boulevard. The Börsensäle premises were constructed by Danish architect Theophil von Hansen between 1871 and 1877 and housed the Vienna Stock Exchange until 1998. Theophil von Hansen gave personal attention to the Festsaal, creating ornamentation which was grand, yet still paying attention to detail. Today, the hall is a dignified setting for grand festivities.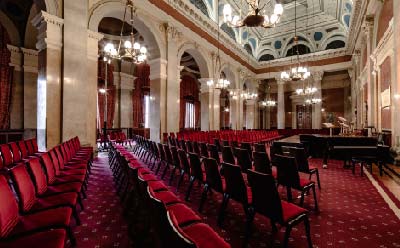 How to get to the Boerse Palais
Address
Boerse Palais
Wipplingerstraße 34
1010 Vienna (1st district)
Venue
Festsaal
Air-conditioned
Yes
Wheelchair access
Yes
By public transportation
The Boerse Palais is only a short walk from the subway station Schottentor of the subway line U2. Also the tram lines #1 or #D have a station at Wipplingerstraße which is right next to the Palais.
By car
As is the case with all concerts that take place in the first district (Innere Stadt), we recommend to not go there by car. Vienna's first district is a labyrinth of narrow one-way streets and blind ends and parking is at best difficult, more often impossible.
Please note that all of Vienna is a short-term parking zone (Kurzparkzone) from Monday to Friday from 9:00 to 22:00 with a maximum parking time of two hours. Prepaid parking vouchers may be purchased at tobacconists, all points of advance sale and ticket machines at all Vienna public transport underground stations, automobile clubs ARBÖ and ÖAMTC and some petrol/gas stations or online with your mobile phone at www.handyparken.at (registration required).
By taxi
Taxis are a reliable and common means to get to your concert. Taxis are usually found at train stations and at taxi stands all over the city. Or you can order a taxi by calling: 31 300, 60 160, 40 100 oder 81 400.
Experience the master pieces of Viennese Classic music in an authentic Viennese performance.
Buy online now