Vienna Supreme Concerts
Music full of Viennese temperament
COVID-19 Update
The Vienna Supreme Orchestra is currently on hiatus.
Immerse yourself in the delightful Viennese music, be enchanted by its elegant waltzes, its refreshing polkas and its many romantic arias and duets. Experience works by Wolfgang Amadeus Mozart, Franz Schubert and, of course, the Strauss Dynasty, the masters of operetta. Let the Vienna Supreme Orchestra and its soloists offer you a truly magical evening where you can experience the happiness, optimism and flair of this wonderful city. Excellent education, international concert experience and Viennese spirited interpretation give the Vienna Supreme Orchestra a special Viennese touch which is always in pursuit of musical perfection.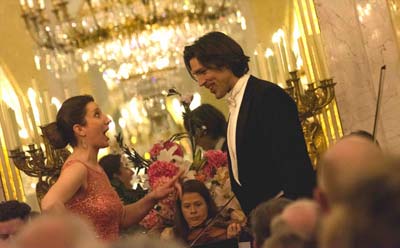 Concert dates and tickets
The Vienna Supreme Orchestra performs all year long in various locations. Tickets are available in four categories: VIP, A, B and C. Seats are not numbered, seating will be assigned by the usher at the entrance according to ticket category. Category VIP includes in addition a copy of the concert program and a music CD.
Category VIP
88.00 €
Category A
62.00 €
Category B
54.00 €
Category C
40.00 €
Seating Buy tickets
All prices are total prices, including all taxes and statutory fees. We do not add any booking fees or shipping charges.
The program of the Vienna Supreme Concerts
The Bat
Is one of the most famous Operettas composed by Johann Strauss and premiered in Vienna in 1874 which is often referred to as "The Queen of Operettas". Its Ouvertüre counts as one of his biggest creations which with its virtuosity present a challenge even for most skilled musicians. This funny and bourgeois world of 18th century Vienna is brought up on the stage of many theaters, especially during the carnival and New Year's Eve time.
The Sound of Music
Viennese waltz has its origins back in 12th and 13th century. Most of dance historians track its roots to the old "Dreher" or "Ländler" which were until the 19th century most important folklore dances. The most famous "Ländler" which was also performed in the movie the Sound of Music of 1965 will bring you back in time for 900 years.
The Magic Flute
Even nowadays The Magic Flute is Wolfgang Amadeus Mozart most performed opera worldwide. It premiered in Vienna in 1791 and was an instant success. In second part of the 18th century Viennese Clown and Magicians opera was established. Typical for this opera is the theme where love concurs against all odds and threats.
Turkish March
Turkish March is the third movement from one of the most famous piano sonata of Wolfgang Amadeus Mozart, Sonata No. 11 in A major. Mozart wrote it in Vienna in 1783/84. The movement has that magical combination of lightness, joy, elegance and rhythmic motion, so typical for Mozart's music.
The Blue Danube Waltz
Is the most famous waltz composed by Johann Strauss Jr. and soon became a secret anthem of Austria. It is played every year at midnight at New Years Eve and it is like a lucky charm for the following year
The Radetzky March
Is a march composed by Johann Strauss Sr. and it was dedicated to the Field Marshal Graf Radetzky von Radetz. The annual New Year's Concert of the Vienna Philharmonic is almost always closed by this piece. The distinctive rhythm (tatadám, tatadám, tatadámdámdám = 3 Anapests und 1 Iambus) has contributed a lot to the high popularity of this march.