Palais Schönborn Batthyány
Baroque Orchestra concerts
Amidst impressive historic city centre, where in former days the well-known Field Marshal Adam Count Batthyány was living, still stands one of Vienna's architectural masterpieces. Palais Schönborn-Batthyány was built in 1699, after plans of Johann Bernhard Fischer von Erlach, the architect of Vienna's St. Charles Church. The impressive concert hall invites you to an unforgettable evening full of virtuous musicians and superb opera singers. Plunge into a wonderful world of courtly tradition and exquisite classical music. So discover the traditional and most beautiful side of Vienna.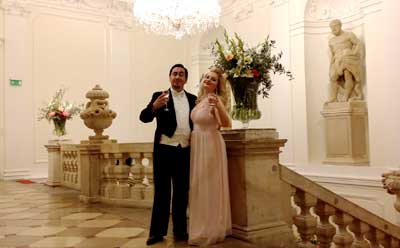 How to get to the Palais Schönborn Batthyány
Address
Palais Schönborn Batthyány
Renngasse 4
1010 Wien (1st district)
Concert hall
Red Salon
Air-conditioned
No (heated)
Wheel chair access
Yes
Please note that there is a different, albeit similarly named, Palais Schönborn (without "Batthyány") in the 8th district. If you go to the concert hall by taxi, make sure that the driver takes you to the Palais Schönborn Batthyány in the 1st district.
By public transport
The Palais can be reached from the subway station Herrengasse of the U3 and the station Schottentor of subway-line U2.
By car
As is the case with all concerts that take place in the first district (Innere Stadt), we recommend to not go there by car. Vienna's first district is a labyrinth of narrow one-way streets and blind ends and parking is at best difficult, more often impossible.
Please note that all of Vienna is a short-term parking zone (Kurzparkzone) from Monday to Friday from 9:00 to 22:00 with a maximum parking time of two hours. Prepaid parking vouchers may be purchased at tobacconists, all points of advance sale and ticket machines at all Vienna public transport underground stations, automobile clubs ARBÖ and ÖAMTC and some petrol/gas stations or online with your mobile phone at www.handyparken.at (registration required).
By taxi
Taxis are a reliable and common means to get to your concert. Taxis are usually found at train stations and at taxi stands all over the city. Or you can order a taxi by calling: 31 300, 60 160, 40 100 oder 81 400.
Listen to the sounds of a waltz, clap along to the Radetzky March and experience a musically highly sophisticated evening in the music capital of Vienna!
Buy tickets now