Concert and Dinner
Palace Concerts at the Orangery Schoenbrunn
With the Concert & Dinner Package you can combine a typical viennese, three-course dinner at the Café Restaurant Residenz or at the La Corte Restaurant at the Hotel Courtyard Marriott with a visit to the Schoenbrunn Palace Concert, playing the the most beautiful works of Wolfgang Amadeus Mozart and Johann Strauss. A delightful evening for your palate, eyes and ears alike.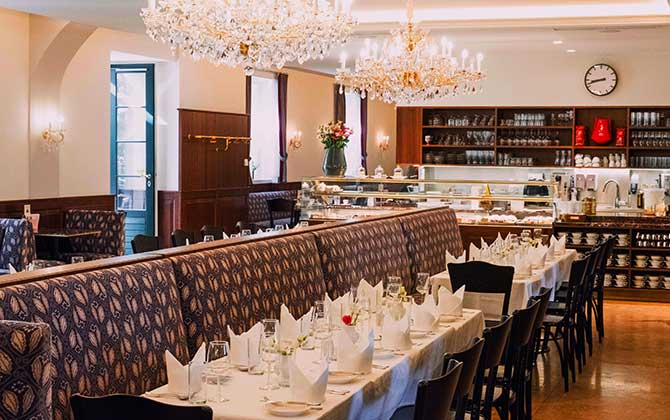 Both restaurants are close to the entrance of Schoenbrunn Palace, where the concerts take place. Dinner starts at 18:30, the concert afterwards at 20:30.
The Menu
Starter
Beef consommé with semolina duplings
Main course
Braised beef roast with shallot-gravy, potatoe pie and tomatoes
Dessert
Orange Surprise – orange cream caramelized with brown sugar, crispy slice of orange and chocolate crumbles
Subject to seasonal changes. Vegetarian dishes are available.
Date and prices
Concert seats are available in four different categories: VIP, A, B and C. The position of each category is depicted at the symbolic seating plan below. The categories only refer to the seating at the concert. The package price does not include drinks. Category VIP includes, a glass of sparkling wine during the intermission, at the bar as well as a concert CD. Please note, that the tickets and voucher for the concert and dinner have to be picked up at the Orangery office.
Seats are not numbered, seating will be assigned by the usher at the entrance according to ticket category.
Concert and Dinner Package
Category VIP
139.00 €
Category A
112.00 €
Category B
99.00 €
Category C
81.00 €
Buy tickets
Concert and Dinner Christmas Package
The concert and dinner Christmas Package is available from the 25th until the 30th of December.
Category VIP
149.00 €
Category A
119.00 €
Category B
104.00 €
Category C
90.00 €
Buy tickets
All prices are total prices, including all taxes and statutory fees. We do not add any booking fees or shipping charges.
Cloakroom
1.00 €
Programme
5.00 €
Audio-CD Schoenbrunn Palace Concerts *
15.00 €
*. Included in category VIP