Concerts at the Palais Eschenbach
Vienna Royal Orchestra
Built according to plans of architect Otto Thienemann in the style of Palladian Classicism, the Palais Eschenbach was opened in 1872 by Emperor Franz Joseph I. The entire house is still preserved inside and outside in its original substance. The ballroom is the ceremonial room of the building due to its valuable wall and ceiling features.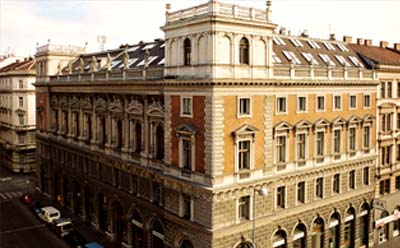 How to get to the Palais Eschenbach
Address
Palais Eschenbach
Eschenbachgasse 11
1010 Wien
Venue
Festsaal
Air-Conditioned
Yes
Wheelchair access
Yes
By public transportation
The Palais Eschenbach is in walking distance to station Museumsquartier of subway-line U2.
By car
As is the case with all concerts that take place in the first district (Innere Stadt), we recommend to not go there by car. Vienna's first district is a labyrinth of narrow one-way streets and blind ends and parking is at best difficult, more often impossible.
Please note that all of Vienna is a short-term parking zone (Kurzparkzone) from Monday to Friday from 9:00 to 22:00 with a maximum parking time of two hours. Prepaid parking vouchers may be purchased at tobacconists, all points of advance sale and ticket machines at all Vienna public transport underground stations, automobile clubs ARBÖ and ÖAMTC and some petrol/gas stations or online with your mobile phone at www.handyparken.at (registration required).
By taxi
Taxis are a reliable and common means to get to your concert. Taxis are usually found at train stations and at taxi stands all over the city. Or you can order a taxi by calling: 31 300, 60 160, 40 100 oder 81 400.
Let the Vienna Royal Orchestra take you away to an unique time period and enjoy a feast for the senses with entertainment at the highest artistic level!
Get your tickets now